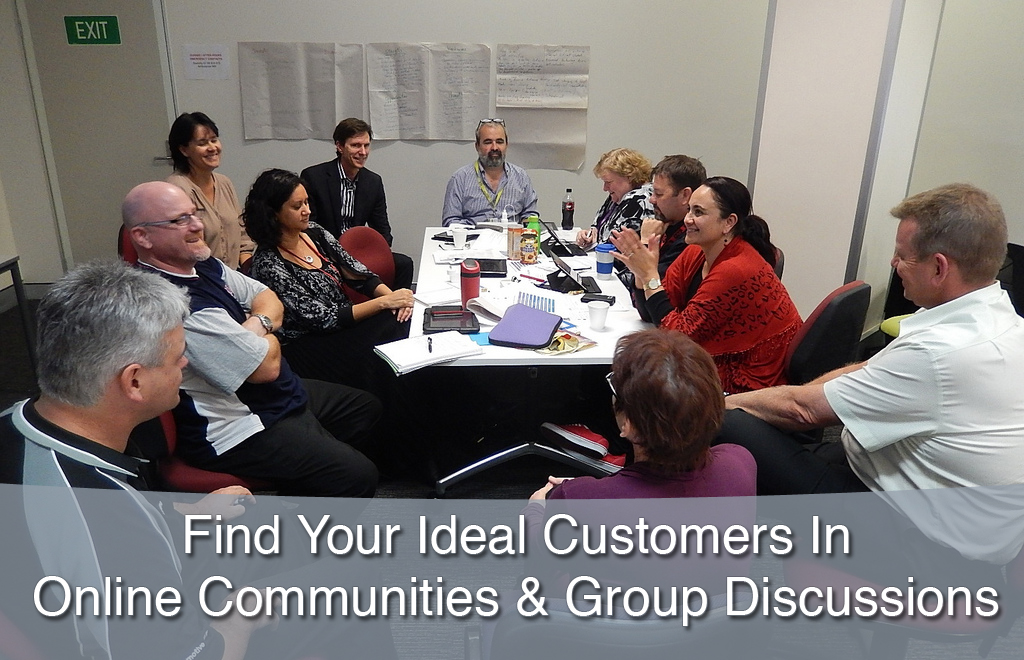 Content marketing is a great way to attract and convert ideal customers for your business. While SEO and search traffic are key components of content marketing, they are not the whole picture and it takes time to see those kind of results. That's where being proactive with your content can speed up the process of attracting those ideal customers back to your marketing hub (your website) to capture their contact information and enter them into your lead nurturing sequence.
In order to be proactive with your content marketing, you will need to know where your ideal customers are researching online, asking questions and talking with each other about the problems that your products and services can solve for them.
Social Media Is Not Just For Broadcasting
When you publish new articles on your website you will of course want to broadcast them across all of your social media channels, but that is not the same thing as joining a conversation of an online community.
Finding online communities to contribute to and share with is a two way street, not a bullhorn for you to scream about yourself, so act accordingly. You want to provide value in a conversational way and within the context of ongoing conversations. If you are starting your own discussion around a topic that you have published content about, then do so in a manner that is practical and convenient for the rest of the community, not just a marketing blast about your company.
Always make your content and your communication strategy customer-focused.
So where can you find these online communities to meet and engage with your ideal customers?
Here is a list of 11 places to find your ideal customers online:
11 Places To Find Your Ideal Customers Online
Facebook Groups

LinkedIn Groups

Twitter Chats

Twitter Lists/Directories

Google Plus Communities

Google Plus Hangouts

Quora

Yahoo Answers

Comment Sections Of Industry Blogs

Reddit

Independent Forums
Facebook Groups
"Facebook Groups make it easy to connect with specific sets of people, like family, teammates or coworkers. Groups are private spaces where you can share updates, photos or documents and message other group members. You can also select one of three privacy options for each group you create."
Learn more about Facebook Groups here >>
LinkedIn Groups
"LinkedIn Groups are similar to old school, online forums. They are a great place for like minded people to post questions and ideas for discussion. Since LinkedIn is the largest, professional social media site, it is a great place to go and find like-minded professionals to network with. These professionals may be potential customers or they may be strategic partners that can help your business in other ways."
Learn more about finding quality LinkedIn Groups here >>
Twitter Chats
If your company is on Twitter, then Twitter Chats can be a great way to connect with customers and prospects, build your authority, keep your finger on the pulse of your target audience, and more. You can host your own Twitter Chat or get involved with an existing one.
Twitter Lists/Directories
Finding existing authorities on Twitter and connecting with the same people who they are influencing and being influenced by can help raise your stature in the eyes of your target audience as well. Check out directories like WeFollow or Twellow. You can find Twitter lists by simply searching on Google for " + twitter list" or "top to follow on Twitter".
Google Plus Communities
Google Plus Communities are similar to the other groups we've already mentioned like LinkedIn Groups or Facebook Groups. They are made up of like-minded people that share and discuss things on their designated topic.
Head on over to the Communities page on Google + to search for communities or see what they recommend specifically for you.
Google Plus Hangouts
Google Plus Hangouts are basically group video chats within the Google Plus social network. They allow you to invite friends and colleagues to "hangout" and communicate with live video calls. These video chat rooms allow you to connect more personally with other like-minded individuals as opposed to just typing in a forum. Click here to browse the Google Plus Hangouts schedule here.
To learn more about using Google Plus Hangouts for your business, check out this podcast episode from Ryan Hanley and Ronnie Bincer on how Google Plus Hangouts can help grow your business >>
Q&A Sites (Quora/Yahoo Answers)
The easiest place to find out where your ideal customers are asking questions about your industry are directly on a Question and Answer site. Check out Quora or Yahoo Answers and search for topics that you are an expert on and you can start building your thought leadership immediately. This is also a great place to get new ideas for blog posts to write and publish directly on your website. Then you can post a link to your full article along with a brief answer in an answer to someone on the Q&A site (don't be spammy, provide value in your answer and context with your link. DO NOT link to just a service page, only link to an article valuable and relevant to the answer provided).
Industry Blogs & Online Publications
I don't know the official number, but I'm sure 90-something% of blogs provide a place for comments after their articles. This is another great place to join in on the conversation going on around the web in your industry. See what people are saying and provide your own insight to the topic at hand.
Most commenting systems also allow you to put a link to your website that will show up when someone clicks on your name. To make this more impactful, instead of using your website's home page as your link, use the URL for an article on your site that is relevant to what you are commenting about. That way when someone clicks through, they are continuing on the same train of thought and more likely to read and engage further with you. It will also raise your position as a thought leader.
Reddit
Reddit is a tricky one. There are so many ongoing discussions around every fathomable topic on Reddit, but it's also a very sensitive bunch when it comes to spamming. You have to be very careful about posting any links to your own website or you may be flagged. Reddit is better to join in a conversation and connect with individuals as opposed to trying to pull the audience from Reddit to your own site.
Independent Forums
Every industry and topic is going to have different levels of activity and engagement on all different channels. Some may be more popular on Facebook than LinkedIn. Maybe there's a big Twitter Chat for your industry but not any worthwhile Google Plus Communities to join.
Then there is the niche forums that you can find that are websites, forums, blogs, or social media networks that are specifically for your one industry or topic. Not every industry is going to have something like this, but many do and they can be the most powerful online communities of all.
Here is another time where good ole Google Search will be the key to finding an online community. Search Google for " + forum" and see what you can come up with. Don't limit yourself to that one search, you can get creative and see what else you can dig up.
How Do You Find Your Ideal Customers Online?
What kind of online communities do you get involved in to connect with your prospects and customers? What tools do you use to find these online communities? Leave your questions and experiences in the comments below!