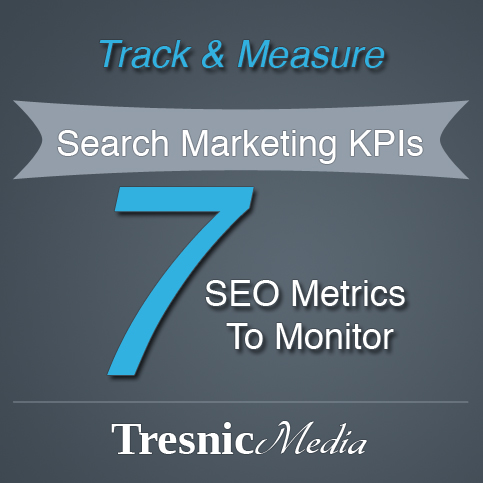 If you are marketing your business online, then you need to be tracking different metrics to ensure you are continuously progressing with your work. Especially with content marketing, a long-term strategy that doesn't usually yield immediate dollar results, but certainly pays off when looking at the big picture, you want to make sure that your business is heading in the right direction. While there are different areas of your online presence to analyze, here are 7 SEO KPIs (key performance indicators) to track and measure to keep your business moving forward.
Pages Indexed By Google
In order to rank on Google, you will want to have a different web page for every keyword or phrase that you are targeting. The more pages that you have indexed by Google (meaning that Google knows they exist and lists them in their database of web pages), the more keywords you will have the opportunity to rank for.
The larger your site is, the more authoritative it will be to Google, which will in turn positively affect your individual pages' search rankings.
Search Queries
As you are building your web presence and frequently blogging, adding more pages for Google to index, you should be seeing the amount of search queries that you show up for on Google increase. Search queries, according to Google Webmasters, are how many different phrases were typed into Google's search box that returned a URL from your website in their results (this does not mean on the first page, it just means anywhere).
Google Webmasters is certainly not 100% accurate (at least in my experience), but it is a consistent benchmark to measure against and track progress on.
Keywords Driving Traffic To Your Site
This metric is a little tougher to measure now that Google isn't providing most keyword data in its analytics. There are different workarounds for the (not provided) conundrum, but at the very least you can see in your analytics how many visitors came from organic search and which pages they landed on. Just like the search queries, you should see this number continually increasing as you add more content to your site.
Keyword Ranking Positions
Your keyword ranking positions are where you actually show up in the Google search results for different keywords. Most rank tracking options are paid tools, but there are some free extensions that you can add to your browser or website that can provide you with some basic information.
External Links To Your Website
The amount of links you have back to your website will strongly influence your authority in the eyes of Google and impact your search rankings. This impact can be positive OR negative depending on where your external links are coming from. You want to build natural links from websites that cover relevant topics to your business so that it shows you are a thought leader being referenced as a resource and that you are not building links in an effort to trick Google to rank you higher.
With quality in mind, the more external links you have to your website, the stronger your website will be.
External Domains Linking To Your Website
The same rules apply for the different domains that link back to your website. The difference here is that if the same website is linking to you from 10 different pages, that's only one external domain. Whereas if 10 different websites are linking back to you, then that's 10 different external domains. You will want to have many different domains linking back to you, not just the same few as that will look suspicious as well as "lose its luster" on the impact it will provide you.
Internal Links On Your Website
Internal links on your website are the links that you have between your own web pages. For example if you are writing a blog post about basketball training exercises and you have a page offering a basketball training DVD that you link to, that's a relevant internal link referencing another resource on your website.
Internal links help you in two ways. One way is that it is another link to a web page is a good sign for that page being linked to. The second way is that by linking between your own web pages, Google will be able to crawl your website better and more easily find all of the pages on your website, get them indexed, and start showing them for more search queries.
Links To External Websites
Though linking off to other websites might have been frowned upon a little in the past because it was believed to have "given away some of your SEO juice" to the other page on a different website, linking to other websites actually has a positive impact on your search rankings. The reason for this being that Google wants to rank web pages in their search results that provide value to the person searching. If your web page is a hub of information on a topic, meaning it references various resources covering the information you are presenting on the page, then Google will find your web page to be a more valuable resource for the person searching.
Do this within reason, and always keep the visitors experience in mind as well as your own business goals. You don't want to constantly be sending people off of your site to be gone forever, but you do want to provide necessary resources when appropriate.
Using SEO KPIs To Improve Business
Knowing this information about how your website is performing on search engines and what keywords and phrases are driving people to your website, you will be able to optimize your content strategy to gain higher rankings for targeted keywords and discover new keyword opportunities.
It's always important to keep in mind that these SEO KPIs are just benchmarks to track for progress, they are not the end game for your business.
What SEO KPIs Are You Tracking?
How do you measure your online marketing progress as it relates to search marketing? Leave your questions and thoughts in the comments below!