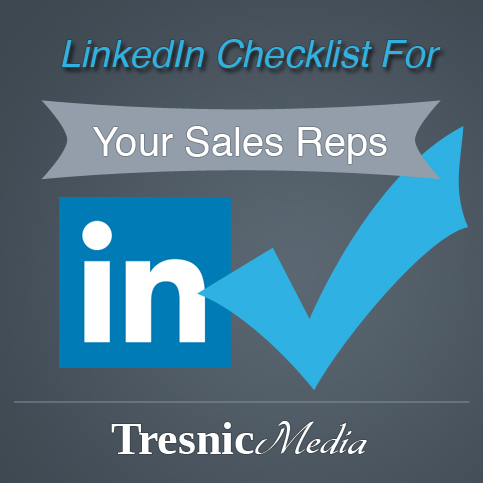 Is your sales team taking advantage of LinkedIn? With over 200 million users, it's time to stop ignoring the largest professional social media network and start leveraging it to get more business.
The key to sales success is often defining a process that can attract and close sales, and repeating it. Creating a systematic approach is what keeps a team more manageable and accountable. In today's world, social media is part of a larger content marketing approach to attracting more prospects, particularly in B2B companies.
This LinkedIn checklist is meant to help define a process for your sales reps to easily manage a new digital channel of lead generation. Use these tactics as a starting point and make adjustments as needed to tailor LinkedIn activity specifically for your sales team.
Share An Update
Share a link in your "Update" to an industry related article along with a line of your own commentary. This will build your thought leadership as an industry expert. Ask a brief question (if appropriate) as well to get some comments from the newsfeed.
PRO TIP: What could be better than sharing a link from a publication? Write your own article and share that instead.
PRO TIP: Does one of your connections (particularly prospects) have a blog? Share something new from their own site and tag them in your update to get your name back in front of them and show you are helping them out by promoting their content (and they'll feel a slight need to return the favor 🙂
Respond To Comments
Respond to any comments made on your Updates. Someone Like or Comment on it that you aren't connected to yet? That's a perfect opportunity to add them as a connection!
Comment On A Connection's Update
If you see something in your feed that you can provide additional value to, then comment there and add a few lines of your insight.
PRO TIP: Tag someone you in a comment that you think would also find the Update valuable. This shows you're helping others by providing value, and gives a chance for the discussion to grow even larger. It will also keep you front of mind for both connections.
Monitor Ongoing Group Discussions
Review ongoing discussions that you are a part of in different groups. Contribute where appropriate.
PRO TIP: Is there an article you know of that adds a lot of value to this conversation? Share that link as well along with your input. But don't do this with your own articles (or not too often, anyway) or it will come off too spammy.
Review New Discussions
Review new discussions that have begun in the groups that you are in. Can you provide value to any of these topics? Comment in the groups where you can.
Start A Group Discussion
Start a discussion in a group using a link to an article that you think others will find value in. Provide a few sentences of your own perspective on the topic and ask a relevant question to spark a discussion and get others commenting.
PRO TIP: Focus on 5 groups. Do this once a week per group, that's a once a day activity. You won't come off as spamming the group with daily annoyances, you'll actually be a thought leader providing value to others.
PRO TIP: Take notice on the other active discussions in the group and see what's getting a lot of comments. How are the headlines written? What topics are they discussing? What type of information is it (news, instructional, opinion, practical tools, etc.). Piece this information together yourself and make the discussion you start have similar characteristics. Keep notes on what works for you and what doesn't (different groups will also react differently) and make ongoing adjustments.
PRO TIP: Again, writing your own article and sharing it to start a discussion will raise your thought leadership even more. It will also drive more traffic back to your website, which gives an opportunity to earn more subscribers to your email list or however you are capturing prospects on your website.
Grow Your Network
Send a few new connection invitations every morning. In order to add connections that are actually worthwhile, don't just go out adding strangers. Connect with people conversing in the same discussions as you and take a look at the "People You May Know" section and see if anyone looks familiar. Did you recently attend a networking event and get a few business cards? First order of business should be connecting with them here.
Do you have some kind of lead magnet or subscriber form on your company's website? Check for recent additions to the sales funnel and see if they are on LinkedIn. Sending a custom message is particularly important here, because they may not know who you are at all. Mentioning that you saw they downloaded your recent ebook and you wanted to connect will make them feel much more comfortable seeing your invitation.
PRO TIP: Add a custom message to your LinkedIn invitation.
Follow Up With New Connections
Follow up with new connections. Send a "Thanks For Connecting" message, mention how you decided you should be connected (the invitation message is not part of a conversation thread so it isn't seen in the inbox like a regular message), ask a question relevant to them and you.
Did you both comment in the same group discussion, use that topic as a springboard for a one on one convo.
After a message or two, if the convo is going well, suggest a phone call to "meet" each other (if close geographically, you can meet in person).
PRO TIP: Do not make this a sales approach. You are purely looking to build your network and relationships with strategic partners and people who you can provide value to. Making a professional friend will benefit you far greater than a homerun swing that whiffs. If you meet and discover business potential, that's great, but don't force it.
Add New Connections To Your CRM
Once you've connected with someone new, add them to your CRM to manage the relationship more accurately. It will also help track your progress with this prospect.
PRO TIP: Using your CRM and marketing software to its full potential (if they are capable), you can use closed-loop reporting to measure the ROI of your LinkedIn efforts and compare them to other strategies you have in place.
How Is Your Sales Team Using LinkedIn?
Does your sales team take advantage of these different tactics on a regular basis? Is everyone following a proven system that has worked to attract new business opportunities? Leave your questions and experiences on LinkedIn for sales in the comments below!
Need Help Leveraging LinkedIn For B2B Sales?
We have developed a proven strategy of B2B content marketing that leverages LinkedIn to gain connections and build profitable relationships for our clients.
Click here to learn more about our B2B content marketing services >>
Social Media Marketing Help