This morning we were going over last year's numbers with a client and it was pretty impressive, if I do say so myself.
Just one of the highlights was going from 35,000 impressions in 2019 on Google Search to 465,000 in 2020 ? (this is without spending any money on ads btw)
You can do the same thing with this simple practice…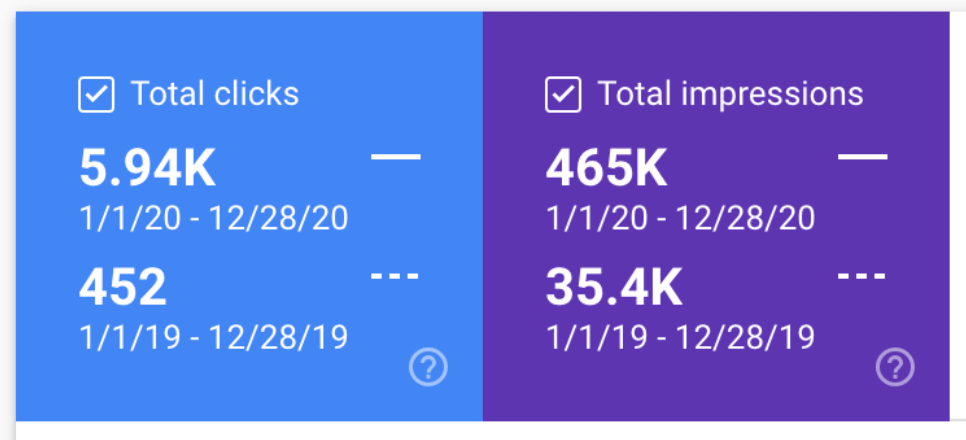 How do you go from 35k to 465k people seeing you on Google?
Consistency and Patience…
This is something I've been consistently preaching about for a decade (see what I did there?)
Do you want people finding you online? Then you need to be publishing content. Period.
Content is what exists in the digital world, and if you aren't publishing any, then you don't exist.
This 2020 vs 2019 Google Search report you're looking at here is the result of, yes COVID putting way more attention online, but how many businesses did not see 10X+ growth in attention this year? I'm gonna assume most businesses did not see that kind of growth.
So what's happened here?
The real answer to this spike is that it's the hockey stick traction that happens after being consistently publishing valuable content on their blog every single week since 2014.
You don't have to wait 6 years to feel some impact of your work, but 10X year over year growth without any extra effort or major change in strategy?
Consistence and Patience.
Showing up.
Being a valuable resource.
Interested in seeing this kind of growth for your business?
Sign up below to get a free strategy session