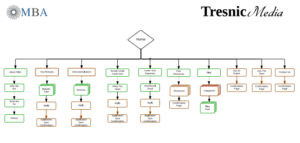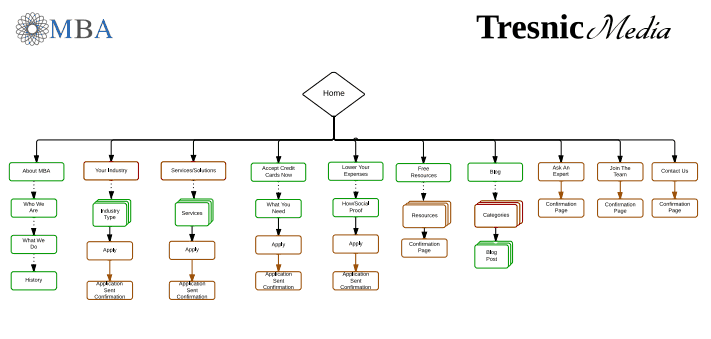 Planning A Website Redesign
If your business is planning to do a website redesign, outlining a flow chart will help you better plan on how the website experience will look for the visitors and how to go about designing and developing all of the necessary components.
Sometimes a thought or idea is easier to visualize than to describe with words. Planning out a flow chart for your website redesign is an efficient way to explain your thoughts using symbols.
Practicing this method will help you envision what the new site will look like, and how the consumer will use it. This is a good way to structure your thoughts. A clear understanding of how the site should look and operate will assist in transforming those thoughts into a functioning website. Furthermore, with a flow chart mapped out, it will be easier to lead customers into your sales funnel, by designing each page to influence their decision making process.
List All Pages Needed
The first thing your team needs to discuss, is what pages are needed on the site. This is an important step to help determine where the user can navigate to from each page. When your prospects come to your website they don't want to have to look for information.
People are going to want a clear indication of what each page offers and if it answers the question that originated their search. By listing all of the pages that your site offers ahead of time will help avoid confusion later on in other stages of development.
New Visitors to Sign Up
When a person visits your website for the first time, they are strangers. Using a flow chart can help you  map out the process that your prospects will experience.
Map out the movement from when visitors first come to the site, what they will click first and where they will end up. This part of the process is where you can decide where landing pages will stem from, and what kind of Call to Action will grab their attention.
Outline Pages and Mapping the Content
Outlining your pages will visually show where each main page should lead to. When the customer finds the information they are searching for, there should be a list of other pages the website can lead them to.
These pages should be structured so the consumer is guided through different Call To Actions where they will exchange their contact information.
Create Your Website Flow Chart
Creating a website flow chart can we as simple as drawing it out on the back of a sheet of paper. However, there are some tools that may make the process a bit easier.
Lucidchart   software used for making flow charts, diagrams, and wire frames for your website. This tool will help you to communicate your ideas visually and start efficiently planning out your website redesign. Bubbl.us  is another mind mapping reference. This will allow you to create a structured map for your brainstorming process.
Have You Created A Website Flow Chart? What Did Your Process Involve?
In the comments below tell us if you've create a website flow chart. Have you used any of the suggested tools? Did the process help your site development?
Need Help Building Your Website's Flow Chart?