Lead Generation is Only Half the Battle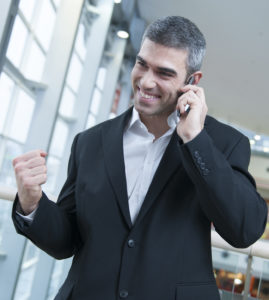 Congratulations, you have a well-oiled inbound marketing strategy and are probably using a service that uncovers your website visitors and turns them into quality sales leads, but that's only half the battle.
What is the best way for salespeople to close on these leads?
Is cold calling really dead?
How do I get responses to my emails?
Is social selling the way to go?
Below is a compilation of advice from seasoned sales experts that will help you conquer the rest of the battle.
Figure out all the commitments you need from a prospective client from target to close
Anthony Iannarino, creator of The Sales Blog, says
"there are at least 10 asks in a normal B2B sales scenario. What you want to do is to earn the right to ask for the next commitment in every interaction."
During every interaction with the lead, make sure you're showing enough value for the lead to want to move on to the next level of engagement with you. Consider mapping out every possible communication points of the journey and be prepared to deliver value at each and every stage. And of course, Sales 101 is to never leave any meeting without having the next one scheduled.
Effective cold emails are a balance between science and art
The folks at Yesware put it so simply by saying
"each line of a cold email must persuade the reader to read the next one, all the way through to your close."
They've also come up with 9 different email templates for you to try.
Peter Seenan, sales expert at Leadfeeder, fills the other half of the equation with his humanistic approach. He stresses the importance of being genuine and friendly, politely asking if you should stop reaching out, and avoiding cookie cutter messages.
Do your research before the conversation
Geoffrey James, award-winning sales blogger on Inc.com, emphasizes that it's
"difficult to put the customer's interests first and expose the relevance your product may have"
if you don't do your research on the company and different stakeholders beforehand.
Research includes knowing their website in and out, reading their press releases, understanding their needs through job posts, looking up their employees on LinkedIn, and following their social media posts.
If the sales lead was inbound, you'd also take into account if they filled out a form, downloaded something, or attended any of your events. And tools like Leadfeeder take it a step further by showing you exactly which pages a company has viewed on your website.
Cold calling and social selling go hand and hand
Cold calling is not dead and social selling is not just a trend.
This hot debate was put to rest during a conversation between Mike Scher and Mario Martinez Jr., two outspoken selling experts.
Mike brings up a solid point that you need to be proactive with sales, which is why cold calling is still necessary. There are plenty of people who don't know that they need your solution unless you get it in front of them, and there are others who are buried in emails so a cold call is the best way to break through the clutter.
Mario agrees with Mike, but boldly states
"I personally make zero cold calls to generate leads, as my social selling strategy brings in one to three appointments a day."
At the end of the day, social selling helps to turn a cold call into a warmer call and it can be as simple as referencing an article or video that your prospect has published on social media, or as complex as revamping your entire LinkedIn and Twitter presence.
And if you're not convinced yet, studies by LinkedIn reveal that social sellers create 45% more opportunities than their peers with a lower social selling index and are 51% more likely to reach their quota.
Overall, 78% of social sellers outperform peers who don't use social media.
Bonus tips
Here are two resources:
1- find their email address based on their website domain.
2- Once you've found the email, use an email tracking tool to check in real-time when the prospect has opened the email.
*This article is a guest post from Carol Luong of LeadFeeder and has been updated by Tresnic Media