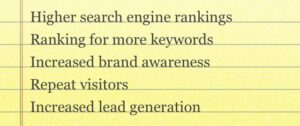 It is becoming more and more important that company's post new content to their website on a regular basis. The benefits of business blogging include higher search engine rankings, ranking for more keywords, repeat visitors, more brand awareness, higher lead generation and the list goes on. So why aren't more businesses blogging yet?
The answer is that blogging is a mental hurdle that a lot of people can't get over. They don't understand that blogging has become a necessity for seeing success online.
Business Blogging Ideas To Get Started
One of the troubles people have with starting their business blog is that they think they don't have anything to blog about. The feeling is that their business isn't interesting enough and customers don't want to read about them on a regular basis. It's actually quite the contrary for two reasons.
1. Blogging about company culture, featuring your employees successes and other news about your company can build a connection with your customers. They will feel more familiar with your company and staff and be more likely to want to do business with you. Wouldn't you rather do business with someone you know and feel comfortable with over a complete stranger?
2. Having a business blog can help educate your customers without them needing to call a sales person and feel pressured to buy. Common questions that take up time from your sales team can be answered in detail on a business blog. Now customers are moving through your sales funnel because of your blog. They are learning about how your products and services can help them.
If someone lands on your company's website and just sees a list of services and a phone number, they may not be ready to call yet because they'll feel pressure to hire you for taking up your time.
If they come to your website, see what services you offer and are able to read about some examples of how you've helped other people similar to them, how your products work or different benefits that your services provide, see your perspective on industry news and trends, they will be more ready to buy and still be on your web real estate. Now that they are educated and ready to buy, your phone number is the one they are going to call (or your contact form they are going to fill out).
How To Get Passed The Mental Hurdle Of Blogging Today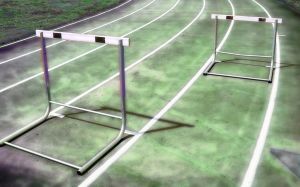 When you see the light and realize that business blogging is no longer an option, you'll want to know where to start. A simple place is with your current customer communications.
When is the last time you spoke with a customer? What did you talk about? Do customers email you questions or issues they are having?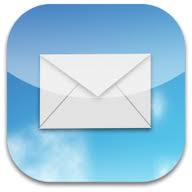 Most likely, your customers all have common questions and issues, whether they are asking them or not. So when one customer calls you with an issue, jot it down. If a customer emails you a question about something, instead of emailing them back with a direct reply, you write a new post for your business blog and send them the link?
This will help you write as in a way that the reader feels you are talking directly to them. It will also get your mind away from the idea of "blogging" and into the mindset of writing content that your customers are interested in and your prospects want to know about.
Do You Have A Business Blog?
Does your company have a blog on their website? How did you get started? Where do you get content ideas from for the business blog? Share your experiences and suggestions in the comments below!