Update – Dave no longer runs these websites, but can be found at lesschurn.io and daveschneider.me
After I signed up for Ninja Outreach's software, I was really impressed with the education process they had in place for new customers.
I can't count how many software platforms that I've signed up for (paid and free), that I ended up leaving within two months because I never really got the tool into my routine.
Whether it's because of a learning curve, an overloaded schedule at the time, or just out of familiarity with a different workflow, there are a lot of ways to lose customers after initial sign up.
You need to be actively helping your customers achieve success with your product if you want them to become a long term, loyal customer.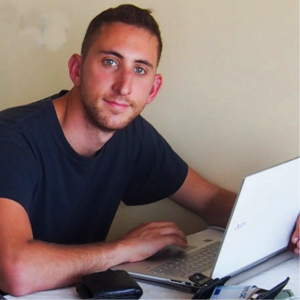 I reached out to David Schneider to learn more about their onboarding process and how they handled their customer success.
David is the cofounder of NinjaOutreach, an innovative new Blogger Outreach software for marketers. He writes about business and entrepreneurship at SelfMadeBusinessman, and enjoys travel.
What does your current on boarding process look like for new users? How long have you been implementing it?
We're constantly tweaking our onboarding process and to be honest it still needs a lot of work. Typically, when someone activates the free trial they are then redirected into the tool.
Immediately they get a welcome message which provides them with an overview of each tab and asks them to describe their intent. About 15% of people reply to this message, and we deliver custom feedback to each person who does.
We use a lot of triggered messages via Intercom at key events, such as creating a list or integrating your email to try to nudge the user further along the process.
At the same time, the user receives emails (Aweber) which educate them on the value the tool can provide, as opposed to particular features.
Lastly, at different touch points we try to encourage the user to schedule a call with us via SoHelpful. For example, it's on the login screen and in other areas in the application.
We've had this onboarding process for a few months now.
What kind of metrics do you track and have you seen them improve since implementing your on boarding process?
We track a ton of metrics, but when it comes to onboarding the biggest one is naturally free trial to paid conversion. We have seen that go up in the last few months since we started using Intercom and Sohelpful as a way to engage customers at key events.
There are other metrics we should be tracking and technically we are through other tools, but we rarely look at them. These generally are engagement metrics, for example, what percentage of people created a list in their first week (this is a big event for us).
We are going to start adding this to our onboarding tracking as we move forward.
What tools do you use for this process?
The main tools are these:
What role does user feedback play?
We get a lot of feedback from the calls and from the in app messages and a lot of it goes to inform future product development. We ask people what they want, and then work to give it to them.
It's critical.
What's the most important thing you've learned so far from user feedback?
At the end of the day you have to know how to sift through the feedback. Some feedback is good, and others are not so good.
Typically "good" feedback is detailed and explains not just the "what" but the "why". Why does a customer want a particular feature?
From there, we have to judge the request in terms of how long it will take to implement and how in demand it is.
A lot of people ask for things that are completely one-off, and while we do make note of those, we can't dedicate a lot of time to them because we have to focus on the improvements that will
If you could give one tip to yourself when you were getting started with setting up your on boarding process, what would it be?
If I'm being honest it would have been to integrate with Stripe and not Paypal. This sounds completely unrelated, but actually it's made a huge different in how we approach onboarding.
Because so few tools integrate with Paypal it makes the onboarding process very difficult.
Take Intercom for example – it integrates with Stripe, but not Paypal. This means that for the majority of our users (we've only recently switched to Stripe), we don't know their plan type in these third party tools, which makes onboarding difficult.
Same thing for so many other tools (like Heap Analytics). Basically, without a proper connection to payment processing, onboarding (and retention), are severely hampered.
Going with Paypal was one of the biggest mistakes we made as a business.
What other companies' onboarding processes are you impressed with?
Frankly I think intercom.io has great onboarding, but naturally they should since it's customer analytics software.