What Is Lifecycle Marketing?
Today's consumers have full control over their buying process. From problem solving, researching available options, choosing who and where to purchase from, how long to be in business together, and even how strongly they will advocate for a brand to their friends and colleagues in person and through their various online amplifiers. So what is lifecycle marketing?
Lifecycle marketing puts you in the path of your prospects while they are going through their decision making process. No longer are you an interruption, now you're a valuable source of information. It is a philosophy, more than anything, to help you attract prospects, build valuable relationships that are profitable for business AND make your customers happy, which keeps them coming back as well as referring more business back to you.
7 Stages Of Lifecycle Marketing
Attract traffic

Capture leads

Nurture prospects

Convert sales

Deliver and satisfy

Upsell customers

Get referrals
Attracting Traffic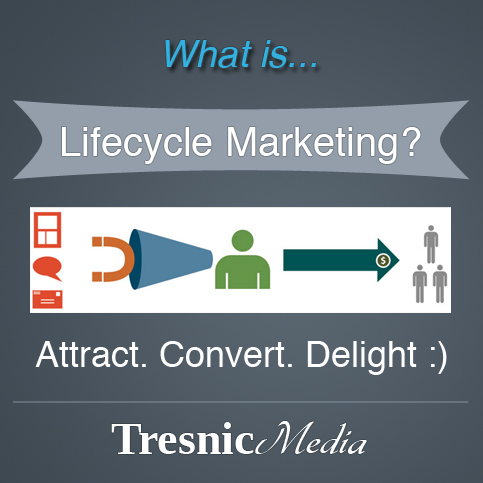 Our traffic attraction methodology is content marketing. This strategy leverages blogging, SEO, social media, and email to connect with high quality, ideal customers (defined as buyer personas).
When executed properly, you can attract people that you WANT to do business with, and through various channels. Your content will rank on search rankings for when people are literally searching for what you have to offer. You can proactively use that same content on different social media channels to broadcast your value. That same content can be emailed to prospects and previous customers to close and reactivate them as customers. Sharing your expertise in online communities where people are looking for answers that you provide will bring in more opportunity as well as raise your thought leadership in your industry.
Capture Leads
Getting visitors to your website is a good start, but it's not even close to the end game. Converting those website visitors into subscribers, fans, or followers that give you permission to market directly to them is the next step. Offering something of value in exchange for a prospect to raise their hand and give you their email address is what allows you to start building a real relationship.
Nurture Prospects
Once someone has entered into your database, it's time to nurture that prospect and begin building a solid relationship with them. Someone who has entered your marketing funnel may be far from purchasing, but it's important to keep in touch with them and continuously build upon them knowing, liking, and trusting you so that when they are ready to make that purchase, there is no question to where they are going to go.
This might be easy when you are just starting and it's maybe a handful of prospects, but what happens when business begins taking off and it's time to scale?
Marketing automation technology allows you to easily communicate and manage your contacts based on THEIR interest levels. No more missing follow up opportunities or warm prospects slipping through the cracks.
Convert Sales
High quality prospects + prospect nurturing strategy = more sales and higher profitability.
With a well-defined lead management system, your sales team will be more prepared and equipped to "close" deals. I say close in quotes because when you are leveraging lifecycle marketing, prospects are wanting to buy from you as opposed to needing you to convince them.
How much easier is it when the prospect asks "when can we get started?" instead of "how much does it cost?"
Deliver And Satisfy
Overdeliver, oversatisfy. There's no scheming in lifecycle marketing, you need to provide value in your products or services for your customers. With that mentality, you transcend someone from being a customer to becoming an advocate for you. Surprise and delight, this good karma comes back around.
Upsell Customers
According to Infusionsoft, this is where you "develop a long-term strategy, tactics, products and services to help generate additional sales and recurring revenue over time."
This is how you can increase your Customer Lifetime Value (CLV). With the right communication in place, someone who was happy with your first transaction will instead be doing business with you more frequently or purchasing other products they will find value in. Without this stage (and the next), you are leaving money on the table, and depriving your customers of more value that they could be getting from you!
Get Referrals
Here's where that karma comes back into play. But doing great work by itself won't get you the referrals that you want, no matter how much you want to believe it. Just like upselling, a proper communication and incentive strategy can increase your referrals and help your business spread.
What Is Lifecycle Marketing? The Right Way To Grow Your Business
Lifecycle marketing may seem obvious when you glance over it, but it's often overlooked and not implemented as a definitive strategy and process for the sales and marketing team