In order to attract prospects online, you'll need to build a hub of information that will rank on search engines and give you and your subscribers content to share across social media channels to build your audience and thought leadership. Incorporating content marketing within your Lifecycle Marketing strategy will cover the attract AND nurture stages of the process, if planned strategically. Read on to learn how to attract prospects with content marketing.
Attract Search Traffic With Content Marketing
The more web pages you have, the stronger Google sees your website.
The more web pages you have, the more keywords you can target and rank for.
The more web pages you have, the more information your prospects will be able to find you for when they are researching online.
The more web pages you have, the more other websites will be able to link to your content as a reference.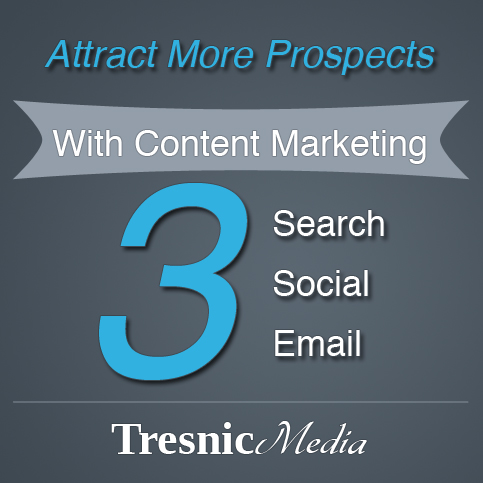 The more frequently you add more web pages, the more frequently Google checks your website and starts showing your new pages in the search results.
Seeing a pattern here? More web pages means more search traffic.
This is of course assuming that you are adding pages with quality content that is optimized for search engines to read and organize in their indexes.
Quality, optimized content is the cost of doing business. Frequency is the force multiplier.
This is why having a blog on your website is so important. Business blogging solves all of these issues for building your online presence with content marketing.
Content Marketing Is Fuel For Social Media
Incorporating social media into your content marketing strategy is a must for more reasons than I'm going to spend time listing here. But in order to build your social media audiences, you'll need to be posting frequently. You don't need to overwhelm yourself at first, you can focus on just one channel to really build your following if you are going it alone. If you are hiring a social media agency, then your business should definitely have a multi-channel social media strategy tied to your blogging approach.
When you publish content regularly to your company's website, you'll have links to share on your social channels that will be valuable to your target audience. This gives them a chance to hear from your company and build your credibility and expertise. It also gives the opportunity for your visitors to have something to share within their social circles and spread your brand's online reach.
Use New Content To Re-Engage With Old Prospects
There are always going to be prospects that enter your sales funnel and don't close for one reason or another. If you have a 100% close rate, then please call me and I will hire you. For the rest of us out there, prospects will be left in the funnel without ever making a purchasing decision (with you or anyone else).
Reaching out cold to a lost prospect can sound a little desperate, anxious, pushy, or all three. But if you have published a new piece of content on your website, then sending an email to offer that valuable information to them can reignite conversations and get some momentum back into that sale and re-establish your position as the expert in your industry.
Strategically Plan Your Content To Repurpose For Lead Nurturing
If you strategically plan your content development and map it to your ideal customer's decision making process, then you will not only be attracting qualified prospects from search and social at all levels of the sales funnel, but you can also use that more advanced content to nurture prospects who enter at the very top of your funnel.
With a Lead Magnet at the top of your funnel, you'll need to have a campaign to nurture that very early prospect until they are educated enough to be a Sales Qualified Lead (SQL). If you've developed your content strategically, you can set up an email series with information from the articles you've published on your site. This repurposing of content is a great time and money saver and should definitely be thought of in advance when you start planning a content marketing campaign.
Want To Learn More?
Want to learn more about strategies and tactics that can help your business grow?
Are You Ready To Attract Prospects With Content Marketing?
If you are a business to business company looking to learn more about implementing this kind of strategy, click here to contact one of our B2B Content Marketing Consultants >>
Selling directly to consumers? Click here to contact one of our B2C Content Marketing Consultants >>