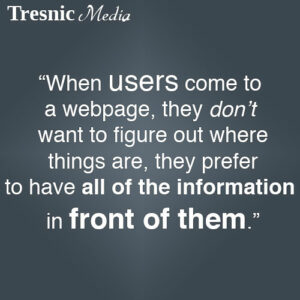 When a business wants to launch a website, usually their main objective is to draw visitors to the site, and generate more leads. A web designer's job is to create a user friendly experience for your potential customers.
By creating a simple, informative design, your visitors should be able to easily navigate throughout the site, finding information they were looking for. Your company's most important information should be listed on your website in a straightforward, and simple format. There are some critical elements that your website should have to help create this positive experience for users.
Consistent Navigation
Your website visitors should be able to navigate to all the information they are searching for quickly and intuitively. Think of walking into a grocery store, you know to look up and see the different sections of the store on the signs hanging in the aisles. Your websites navigation is that quick, accessible view to the sections of information on your website.
When a visitor is clicking through your site, the main navigation should be towards the top of every page, allowing for visitors to be able to move throughout the site without needing to click the back button to previous pages just to start over. Without consistent navigation, a website is unorganized and confusing.
When users come to a webpage, they don't want to waste time trying to figure out where things are. They need to have all of the information they want right in front of them. Without being able to find what they are looking for within a few seconds, your visitor will become frustrated and leave your site completely.
The design of the navigation bar should be consistent so customers can identify it on every page with no confusion. The ability to move through each web page quickly and easily will keep your visitors happy, help them find what they are looking for faster, and lead them to becoming customers at a higher percentage.
Clear Branding
Having clear branding on a website is important. Part of gaining social trust is to communicate to your visitors that they can identify with your brand. An important way of doing this is having your company's logo appear on every page. This reminds visitors that while they are navigating through the site they are only landing on pages that your website provides.
Also, it is important that your logo appear esthetically consistent. A logo should look the same on all platforms so customers can distinguish your brand. A logo that isn't consistent can mislead customers and delay the brand building process.
Your brand's visual identity should be consistent, not only across your website, but across all platforms, online and offline. When someone sees a piece of your brand's real estate, whether a blog post, Facebook Page, direct mail piece, or magazine ad, they should immediately recognize and feel familiar with your brand.
Value Proposition
Every business's website must include a value proposition. Your value proposition is a statement that offers explanation of what makes your company different from all the others. This is usually a speciality that your company focuses on. One company certainly can't specialize in everything, the more you acknowledge that you stand for one service in particular, the more "special" you become to customers.  In this statement you should explain who your target audience is, the benefit your services offer, and how others can be successful if they use it.
Your value proposition should concisely explain who you are, what you do, who you do it for, and the benefits that those people receive.
For example, Tresnic Media is an inbound marketing agency that builds websites for B2B companies so that they can generate more leads and save time selling to make their business more profitable.
Bringing It All Together
Websites are often used to drive traffic, and generate more leads for a business. There are a number of successful ways to achieve this goal. However, having a clear navigation is important. Customers should be able to easily explore through your website without confusion, if a visitor feels over whelmed they may not come back to the site. Clear Branding will help potential customers identify with your brand, and build brand awareness. Your Value Proposition will assure potential customers that your business can be beneficial to theirs and they will better connect with your company knowing that you are tailored to provide them with exactly what they need. Think of these suggestions if you're considering a website launch or redesign.
If You're Looking To Redesign Your Website, You Should Consider These Tips. Do You Have These 3 Elements On Your Website?
In the comments below, tell us if you have any of these 3 elements on your website. How have they helped your customer's user experience.
Get Your Free Website Assessment
If you are in need of a website redesign, we offer several packages to best suit your company's needs.
Click here to see our web design packages and schedule your free assessment >>