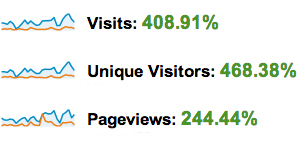 40 blog posts into the blogging challenge and we're starting to see numbers really climb up. Search traffic and referral traffic to the website are continuing to climb. The amount of keywords that this website is ranking for is growing exponentially.
Website Traffic Has Quadrupled!
Compared to the previous four weeks before the blogging challenge started, traffic is up 400%. The website traffic is starting to come in more and more from search engines and the social media traffic continues to rise. As there is more and more content to share from TresnicMedia.com, the more it is being shared and retweeted.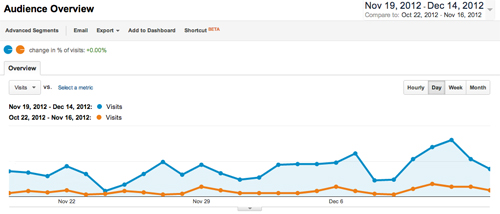 Search Engine Traffic Has More Than Tripled, Search Queries Double In A Week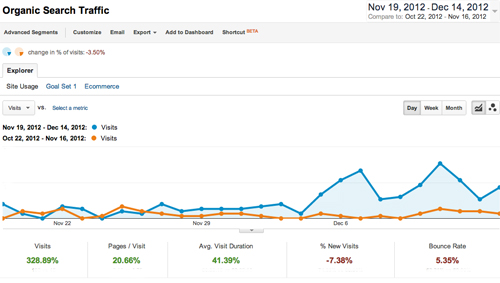 Due to the amount of new pages (posts) on the website, there are more web pages ranking for 200 different keywords. At the end of last week, Google Webmasters showed that this site was indexed for 97 different keywords, this week it's at 200! The amount of keywords that we are showing up for is growing exponentially with the frequent posting of new articles.
Referral Traffic Has Increased By Three And A Half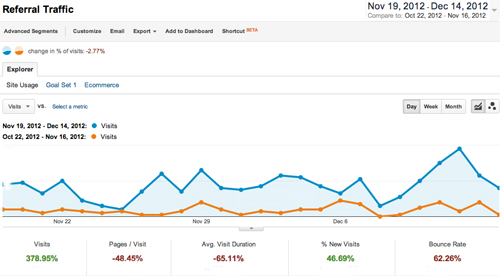 With more content on the website to link to and share, more people around the web are doing so. Referral traffic coming from LinkedIn Groups, Twitter, Facebook and other websites around the web has been consistent over the last few weeks. Keeping up with this trend and now the search traffic increasing will only lead to more exponential growth.
Have You Gotten Focused On Your Blogging And Seen Similar Results?
I'm curious to what the differences are in industries and in frequency of posting. If you have taken on similar commitments to your website's success, I'd love to hear your story in the comments below or even shoot me an email to talk about how things are going!