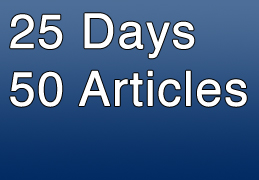 *Note that this was written Friday evening around 8:00 PM, so the actual numbers of visitors are slightly higher in reality than what's discussed below
Three weeks into my blogging experiment and I am right on pace with 30 new blog posts. All of which I do believe are useful and valuable to those interested in building a successful online presence for their business or their clients' businesses. Some articles have been more novice and some more advanced, but I am very happy so far that I've been able to create two new blog posts a day for three full weeks and still feel like I'm going strong. Results are also inspiring for me and are definitely keeping me motivated as well.
Website Traffic Increases 331%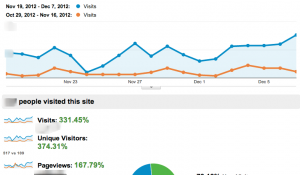 Compared to the three weeks previous to the blogging challenge, traffic to TresnicMedia.com has increased by 331%. On a whole, this is a pretty outstanding number in itself. Taking a look at the different traffic sources is what is really impressive. All different traffic sources have increased tremendously.
Search Engine Traffic Is Just Starting To Climb

During the first two weeks of the blogging challenge, the website traffic from search engines wasn't really climbing. But this week we started to see a spike in search traffic. The boost started two and a half weeks into posting twice a day and after 26 new articles posted to the website. Compared to the three weeks before the blogging started, search engine traffic has increased 223%.
Referral Traffic Rose Quickly, But Has Plateaued

Referral traffic to the website jacked up almost immediately when the blogging challenge started. This was most likely because I was sharing all of the posts with my different social media networks and driving traffic from around the web. Since I'm still sharing in those same places, the referral traffic seems to have hit a ceiling on growth, but is still consistently driving visitors when there is a new post. While the increase in traffic is nice to see, it's also in the back of my mind that if I stop posting and sharing so often, the referral traffic will go down just as quickly as it rose.
Google Webmaster's Search Queries Almost Double In A Week
After the first two weeks, Tresnic Media's search queries went from 26 to 57. In week three, they jumped from 57 to 92. Considering the increase in search traffic and this Search Queries, I'm going to set my expectations to see the search traffic continue to increase exponentially as more pages are added to the website. The main targeted pages are climbing for short tail keywords and of course the amount of long tail keywords will continue to grow.
Have You Gotten Focused On Your Blogging And Seen Similar Results?
I'm curious to what the differences are in industries and in frequency of posting. If you have taken on similar commitments to your website's success, I'd love to hear your story in the comments below or even shoot me an email to talk about how things are going!