So you're ready to take on the philosophy of the new digital world. You understand that becoming a valuable resource for your prospects and customers is now a necessity of growing a business with all the power that the Internet has to offer. First thing's first though, building the hub of your online presence. Your lifecycle marketing website will need to have several key elements to insure you can attract and convert more business opportunities.
9 Keys To Your Lifecycle Marketing Website
Optimized for search engines in the coding foundation of the site

Responsive design

CMS/Blogging capabilities

Continually add to the amount of pages on your site

Integrate social media sharing and profile links

CTA's around the site

Focused landing pages

Simple forms

Automated follow up
Optimized Website Code For Search Engines
The way a website is coded when it's being built will distinguish how readable it is to search engines. This is "baked in" to the code of the site when it's being developed, so it's important to have this talk with your website developer from the get-go to make sure they know what they are doing. While search rankings are determined by hundreds of factors in Google's algorithm, many of those things being off-site and how your content is written and formatted, if it isn't structurally correct in the foundational code, then you are going to struggle building your authority with Google and other search engines.
For your lifecycle marketing website to attract people through search engines, this is extremely important to get right from the start.
Responsive Website Design
Responsive website design is how you describe a site that actually changes based on the visitors device. If someone is visiting your website from their computer, they will experience the full offering of what you have available. From a tablet, the visitor may see a slightly modified version of the site that is tailored to a touch screen experience on a slightly smaller screen. If your visitor is arriving from their smart phone, then seeing a desktop version of your website could be overwhelming and too cumbersome to navigate and find what they are looking for. Having a mobile optimized website is key to ensuring your visitors are having an equally satisfying experience, although different, from whichever device they are coming to you on.
CMS & Blogging Capabilities
CMS stands for Content Management System. A website that is built with a CMS allows non-tech users to log in via their web browser and make basic changes to content on the site from one centralized interface. There are many different CMS options when having your website built, WordPress being the most popular (at the time of writing, I believe that 20% of the Internet is running on the WordPress CMS – Don't confuse WordPress.com and WordPress.org when having your website built.).
With a CMS, you will also be able to add extended functionality and more easily integrate technical needs that you'll need to have in place to reach your business goals. Things like CRM integration, marketing automation implementation can be much (RELATIVELY) simpler projects when they don't need to be built from scratch.
One of the most important integrations that you'll need for your lifecycle marketing website is the ability to blog. Creating content is the most important factor in building your digital visibility and giving you the fuel to run search, social, and email marketing strategies that will attract and convert more customers for your business.
Size Matters
There is no finite number of web pages that you need to have in order to deem your site "complete." You should continuously be publishing more information and growing the amount of pages on your website for multiple reasons.
Having more pages on your website makes you a stronger authority to search engines, and people, who are looking for information on topics relevant to your products and services.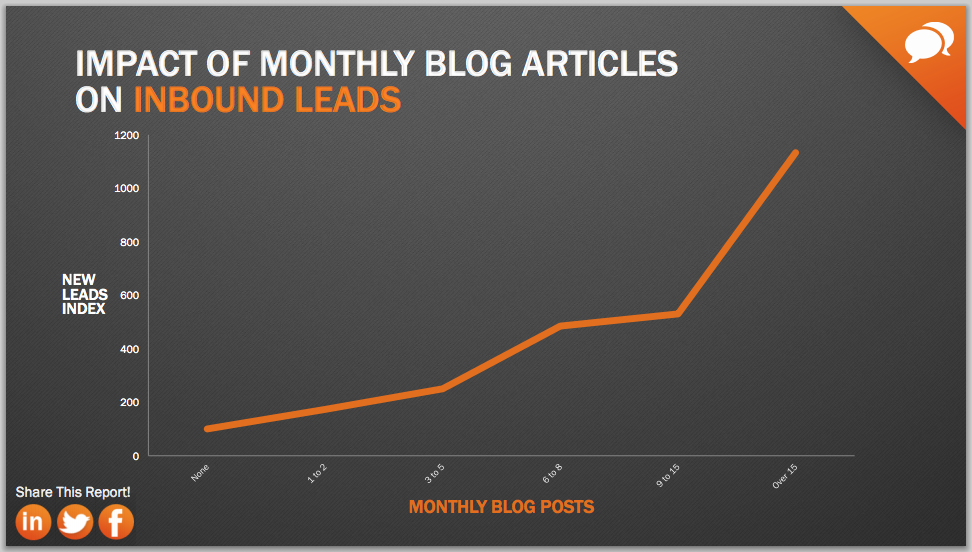 Adding more pages (*blog posts*) gives you the ability to rank for more keywords and phrases that your prospects are searching for on Google. Every page on your website is the chance to rank for a different keyword or phrase.
With more posts published frequently, you have more content to share on your social media channels that will be broadcasted to all of your Fans, Followers, Subscribers, and Amplifiers to help increase your digital visibility and raise your thought leadership as well as drive traffic back to your central online hub (your lifecycle marketing website).
The more content you have on your website, the more opportunities you are giving to your Audience to share within their online (and offline) circles, again raising your digital visibility and thought leadership within your target audience.
Social Media Integration
In order to fully engage your Audience, you will need to have social media integrated into your website in various different ways. Two must-haves though:
Links to your social media profiles

Social sharing buttons on your content
Social Media Profile Links
When people visit your website, you'll want them to easily be able to connect with you on your social media channels (the one of their choice) and become a part of your audience.
A Quick Note On The Importance Of Your Audience
This is literally an entire book's (series of books IMHO) worth of information on this topic, but to sum it up briefly for you: You rent an audience when you buy TV/Radio/Print/Direct Mail ads from someone else. When you have your own list of contacts, you don't need to pay to rent someone else's AND your audience will be more interested because they have volunteered to get information from you (unlike the rented audiences of ad buying).
Now back to our regularly scheduled topic of Lifecycle Marketing Websites…
Social Media Sharing Buttons
Social media sharing buttons are what you commonly see above/below/beside an article that you are reading online that has an icon to various popular social media networks. These give your readers the opportunity to share your content with one click to their social circles. This is another key way to spread your brand's digital visibility and attract more interested prospects to come back to your website.
Some other ways to integrate social media into your website may include:
your social content streams

third-party social curation pages

fan generated content streams
Calls To Action
A call-to-action (usually abbreviated as CTA) is an image or line of text that prompts your visitors, leads, and customers to take action. It is, quite literally, a "call" to take an "action."
In order to capture more leads on your website, you'll need to ask your visitors to take action. This can be signing up for your newsletter, downloading a Lead Magnet, or possibly buying a product. It's your message that moves them to taking their next step. So if you have a free guide that visitors can download that offers insight on making a purchasing decision, and you are publishing blog posts around that same topic, then you should have a CTA on those blog posts that will drive people to a landing page to enter their contact information in exchange for that free guide. Without telling visitors that free guide exists or why they should download it, they'll never know it's there as a resource for them.
Landing Pages
Your Lifecycle Marketing Website needs to have focused web pages that don't distract visitors in any way or lead them off of your site. This means no links to references on other websites, no icons going off to your social media channels, no CTAs for them to click off to another page, no sidebar with lists of other articles to go read, often times it even means stripping the navigation away from the page. A landing page serves one purpose and should solely focus on that purpose.
Using blog posts to attract traffic from search and social, and designing intriguing CTAs for readers to click and bring them to a relevant landing page with a quality offer, you will be able to convert more of your website visitors into leads and customers.
Simple Forms
Too many forms on the web ask for every piece of information that you could ever possibly want from someone. The problem is, people don't like filling out forms OR giving away their information. How can you solve this problem? Easy, make your forms shorter and simpler. The less fields that someone needs to fill out, the more likely they will actually complete the form in front of them. If someone is just entering contact information in exchange for some kind of digital information or lead magnet, then all you absolutely need from this person is their email address. Often times it's worth asking for a first name and email address, that way you can personalize content for that specific visitor, but that's something that you can test out with your specific site.
Sending an email that says "Hi Dan" instead of "Hi," is much nicer to a reader. Subject lines including a first name are also opened at a much higher percentage. There is also technology that is available now that allows you to actually personalize your website content to have someone's name in it as well.
Automate Follow Up
When someone is signing up for something they expect to receive via email, it should be as close to instantaneous as possible. This means automating your email follow up with the information requested in each form you have on your website.
If someone is filling out a contact form to talk with a sales rep or consultant from your company for a quote, the faster you can follow up with a contact request from your website the better. We even send an automated voice message on some of our forms to alert the prospect that they'll be receiving an email from someone within a few minutes.
According to the Harvard Business Review, "Companies that try to contact potential customers within an hour of receiving queries are nearly  7 times  as likely to have meaningful conversations with key decision makers as firms that try to contact prospects even an hour later – and more than 60 times as likely as companies that waited 24 hours or longer."
With the level of marketing automation offered today by different software companies, there is no reason that you shouldn't be integrated your website with your CRM and marketing automation software in order to more efficiently turn prospects into leads and nurture those leads into sales.
Is Your Business Armed With A True Lifecycle Marketing Website?
Does your company take advantage of these different elements of lifecycle marketing within your website? What aspects have you found to be most successful?
Do you implement any other strategies or tactics that you would recommend? Leave your experiences and questions in the comments below!
Ready For Your Own Lifecycle Marketing Website?
If your company isn't attracting enough quality sales leads through the web, it's time to learn more about lifecycle marketing and how you can start making your business more efficient by combining solid marketing strategies with technology.
Click here to contact one of our Lifecycle Marketing Website Consultants now >>
(You might even get to see how our automated phone calls work 🙂
Learn More About Lifecycle Marketing
Want to learn more about how lifecycle marketing can help your business grow?
http://www.youtube.com/watch?v=BmZbw2MkyWo
Click here to contact a Lifecycle Marketing Website consultant >>