Hello all! Peter here, the new content marketing intern at Tresnic Media 🙂
In this post, I'll be talking about some important pieces of equipment to help make your video look great!
Recording Quality Content
The first thing you're going to need is a quality camera that can record high definition videos. Have you ever seen YouTube videos with abysmal video quality? You know, the video clips that are really grainy with the sound all garbled up? They're pretty much everywhere! It's hard to even listen to the speaker when the video itself is so distracting. Why is quality so important when trying to make videos for your website? Having quality in your material is what sets you apart from the rest. It really adds more credibility and more professionalism to your content. No, you don't need to be a professional photographer or filmmaker, but it really helps when you put in that extra "oomph" into your videos. So what kind of camera should you be getting?
The camera that we use at Tresnic Media is a Canon EOS Rebel T3i. Now this piece of equipment is fantastic! DSLR cameras have become extremely popular lately because of their ability to provide almost cinema like quality in their videos. Not only does this camera do a fantastic job of taking videos, the picture quality is not to disappoint. At this kind of price point, there is no other DSLR that can compete with the quality and functionality of the Canon T3i. I highly recommend this camera if you're serious about making your videos have that professional flair to them. The Canon T3i is the perfect professional solution for the non-professional.
One thing I cannot stress enough when making videos is; I beg of you, do not use a webcam to film your videos. It doesn't even matter if that webcam is the best piece of technology to ever be made. Just don't do it!!! Sitting down at your desk and talking into a webcam doesn't exactly show me you've put too much effort into making your video. Also there's most likely going to be distractions in the background as well. However, if you are on a budget constraint, there are definitely other cameras available to you out in the market. There are lots of video camcorders that have reduced in price recently that may be a good substitute to a DSLR camera. Personally, I believe that a DSLR camera compared to an actual video camcorder, the DSLR wins hands down. I have yet to see a budget camcorder than can compete with the quality the Canon T3i puts out. Another question you might have is: What about Nikon? Well, think of it this way. Comparing Nikon to Canon is like comparing a PC to a Mac. It really just comes down to personal preference, but I believe the Canon comes out on top when it comes to ease of video recording and quality. As an educated consumer, always research the product! Be sure to check YouTube reviews, and reviews left by customers on websites where they purchased their camera.
Making Your Videos Stand Out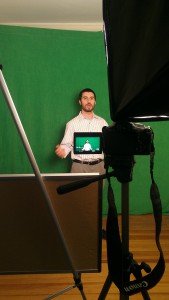 A great investment to filming in your home office would be to get yourself a green screen. No, not some shabby piece of felt that you can get at an arts and crafts store, but a legitimate green screen that is used for photography and video. By having a good quality green screen, the color is evenly spread out and will likely be a lot easier to key out the background when putting your clip through a post production editing software such as Adobe After Effects or Sony Vegas. Now, you may be asking if this is even necessary. It isn't really necessary, but it goes a long way when you try to produce professional looking videos for your YouTube audience. For example, by keying out the green background, you could put in a solid white background, for example. By having this white background behind the speaker, it removes any distractions that may have been there previously. Also it is a lot easier for your viewers to focus on the speaker if they're just set in front of a solid color background.
You're bound to get the best deal on a green screen and even a lighting set by visiting some online stores such as Amazon and BH Photo & Video (just to name a few). Also when filming against green screen, lighting is one of the most important factors when it comes to getting the right shot. If there's even the slightest bit of shadows in the background of your subject, trying to chroma key the green out of the background will prove to be an extremely hard task in the editing process. I've found that by setting two soft lights on a 45 degree angle facing the subject, this provided the best results to combat this issue. In a later blog post, I can go over how to do chroma keying among other basic editing skills in a quick tutorial.
Easy Way to Shoot Professional Looking Videos
Okay, so far I've covered cameras, green screen, and lighting. What next? Last but not least, having a tripod is probably the second most essential equipment out of all that I've listed so far. It may be really obvious, but having a tripod to hold your camera steady is unbelievably important. Even if you have a high quality DSLR camera that can shoot crystal clear 1080p definition, it really goes to waste if your footage is shaky due to it being hand held. Not only is this an amateur thing to do, it's another thing that will detract professionalism from your videos. By setting up your camera on a tripod, it's almost easy as making Easy Mac. You're now ensured to have steady footage that won't give your viewers a migraine.
Well, that about sums up today's blog post! Feel free to contact via e-mail or comment if you have any questions. Hey, we might even do a video on your question too!
Thanks for reading everyone, and I hoped you all enjoyed my first blog post.