We've been promoting content marketing to anyone who will listen for the last few years. Some businesses have been early adopters and seen great results. Some have dipped their toe in the water, resulting in less impact but also with less expectations. Whether because of lack of belief or lack of education, others have completely ignored content marketing's rise to prominence.
SAP has taken on their content marketing efforts in full stride. Launching purely informational blogs that attract and educate their target audience without any kind of sales or product promotion involved.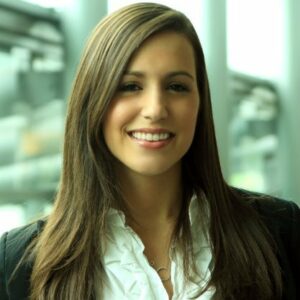 Last week, I had the pleasure of speaking with Lindsey LaManna, a Marketing Manager, Content Marketer at SAP and head of their Innovations blog managing editor of the Business Innovation blog about how they've grown their online presence since launching at the beginning of 2012.
Why The SAP Blog Launched Based On Analytics
While many businesses are still hesitant to make the shift from traditional marketing, using data to prove a case is hard to argue against.
When Michael Brenner, VP of Marketing (and content marketing evangelist), showed the SAP leaders that their organic search traffic was 99% branded keywords, it was an eye opener. This means that the only people finding SAP's website from Google were specifically looking for them, not trying to find solutions to their problems. Because of this, SAP products were not getting in front of their target audience at their Zero Moment Of Truth (ZMOT) and A LOT of business opportunities were being missed.
A big benefit to blogging for business is that you get your brand and your information in front of your ideal customer while they are on their path to making a purchasing decision. SAP was completely missing out on this stage of the buying cycle, where consumers are self-educating through more than 60% of their decision making process.
5X Growth From 2012 to 2013
For the Business Innovation blog to prove its worth, it needed to take off and significantly extend the digital reach of the SAP brand.
In its second full year of existence, the SAP blog publishing frequency increased from 8 to 18 articles per day. This increase in frequency and volume of articles pushed the Innovations blog to grow 5X from 2012 to 2013. But it's not just about publishing the articles, it's also about promotion around the web and engaging the community.
How SAP Publishes Almost 20 Articles Per Day
Even though the SAP organization is very large itself, the Business Innovation blog team is not. Only Lindsey and a few others are in charge of creating, cultivating, publishing, promoting, and engaging this content marketing effort.
The three ways that Lindsey is able to keep high quality articles pumping out at such a high rate and within a low budget are:
Leverage SAP employees and Subject Matter Experts (SME)
Allowing experts outside of SAP to contribute high quality articles as guest authors
Finding experts to have syndicate their high quality business blogs on the SAP Innovations blog
Although it might seem like an easy task at a large organization to get internal SMEs to create content for your blog, they are actually the least frequent contributors because they are so dedicated to their existing roles within the company.
SAP has an editor that works with the Business Innovation blog to review and edit articles from guest contributors. If they are approved, then they are formatted and optimized for search before being added to the publishing schedule.
This review and optimization stage is key to the process in order to have an impact on the search traffic that the SAP blog is able to generate.
Because of these efforts, they are generating 12K-15K organic search visitors per month.
Promoting And Engaging With Your Content And Community
Once an article is published, it doesn't stop there. Lindsey works the social media circuit to promote new articles where they will be found valuable. This includes Facebook, Twitter, Google Plus and LinkedIn Groups.
Along with promoting the content from the blog, she also makes sure that the proper attribution goes along with the social post. The original author of the piece is tagged or mentioned and can help raise their own credibility and thought leadership. This is a main part of the incentive to become a guest contributor to the SAP blogging platform.
Converting Blog Visitors Into Leads
Not to overlook the business goals of SAP, the blog has several Calls To Action and lead capturing forms to help convert those visitors into subscribers into leads for the SAP sales team.
Website visitors are able to access more in-depth and valuable information such as expert white papers in exchange for their contact information. We also promote events and subscribers are sent our daily newsletter. By offering these more premium pieces of content while a reader is engaged with a relevant topic on the blog, SAP has been able to generate hundreds of sales leads directly from their content marketing efforts (not to mention the increase in brand awareness, multi-touch leads generated, etc.)
You can follow Lindsey on Twitter @LindseyLaManna and on @Biz_Innovations, connect with her on LinkedIn here and read her latest Innovation articles for SAP here.
Is Your Business Ready To Leverage The Power Of Content Marketing?
Don't be fooled by the size of SAP's full company and the correlation to their content marketing efforts. Lindsey and her small team are on a tight budget and are able to produce serious business impact for the organization.
Click here to learn how content marketing will help your business grow >>