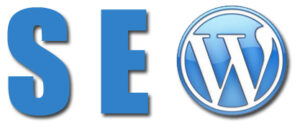 One of the best things about using WordPress for your business's website is that you can make updates yourself. You can create new pages and posts easily in the WordPress dashboard even if you have no website development experience. If you can send an email or create a Word document, you can create and edit WordPress pages and blog posts.
If you are blogging on your business's website, then you likely have a goal of climbing the search rankings for targeted keywords. While there are plenty of WordPress SEO plugins that can be installed on your website, I'm going to go over how to optimize the content that you control in your WordPress page/post editor.
Optimizing Your Page Title

The WordPress page title plays multiple roles with optimizing your page. Not only is it displayed at the top of your page content so that the visitor (and search engine robot) can immediately identify what the page is about, but it also adds the HTML page title for search engine optimization enhancement. The third role your WordPress title plays is in the url of your page. Having your targeted keyword in the url can help with your SEO and using your page title is how WordPress determines the url for your page.
I hope you didn't think the page title's job was over, this one, seemingly small item is a workhorse! In addition to all of your on-page optimization, when someone uses a social sharing tool to share your web page on their favorite network, it is likely going to automatically generate the text from the WordPress page title as the text that is shared along with your link.
When you're crafting your web page titles, keep all of these different roles in mind. You'll want it to have your keyword in it as well as be intriguing for people to click on when it's shared.
Optimizing Your Page Content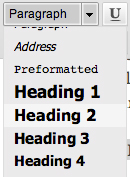 While these other page items may not wear as many hats as the page title, they are still not to be overlooked. A key element that is often overlooked by someone without SEO experience is making secondary and tertiary headlines on your web page with H2 and H3 tags.
These are basically sub headlines that should break up your text into different sections (on this page "Optimizing Your Page Title" is an H2 element). Having your targeted keywords in your H2 and H3 elements help improve your on page SEO. All you have to do to create an H2 or H3 in WordPress is highlight the desired text and click the drop down box that says "Format" or "Paragraph" and then select Heading 2 or Heading 3.
H1 should only be used once on the page and is likely in your HTML code of the WordPress template pages. The page title that you create should be an H1, check with your web developer to make sure.
Optimizing Your WordPress Excerpt
The excerpt is a smaller text area below where you enter all of your main content in the page editor. The WordPress excerpt plays two roles (depending on your WordPress theme and any other plugins that may be installed).

The WordPress excerpt text is used on certain areas of your website to describe the page with a link to read the full thing. This is usually on the home page or on an archive page which lists multiple posts in one spot.
Your web pages description is also often taken from the WordPress excerpt (depending on your theme). This is the area of text that shows up on the Google search results page underneath the page title and entices web searches to click through to your website. Having keywords in this area improves SEO. You also want to write a good description of the page so that people searching will want to click through and read your web page.
Optimizing Images For WordPress Pages

Adding an image to a WordPress page is as simple as dragging and dropping the image file. Simply click the upload image icon in your WordPress page editor and a dialog box will appear to drag and drop or select a file from your computer. Either or works, whatever you are comfortable with is what you should do.
Optimizing your images for your website starts before you upload them, though. You'll want to have your image's file name contain the keyword you are targeting on the page.
When you upload the image to WordPress, you'll see a few options to type in text, one is "Title" and another is "Alt Text". This is to help the visually impaired with web page readers to know how you describe what is in the picture. Since search engine crawlers can't see images visually either, they use this information to determine what the picture is. This is an opportunity to describe your image with your targeted keyword to help improve your web pages SEO.
Other Text Areas You Can Optimize
Insert your keywords in these key areas
Page Title
H2 (Sub Headline)
H3 (SubSub Headline)
Image file name
Image Title
Image Alt Text
Bold Text
Italic Text
Link Text (Anchor Text in SEO language)
Excerpt
Are You Taking Advantage Of These WordPress Page SEO Opportunities?
Is your WordPress theme optimized for search engines in the areas described above? Ask your website designer to check the code to make sure. Keep this page bookmarked so you can refer back when creating your website's new pages in WordPress.
JZP78V52389J