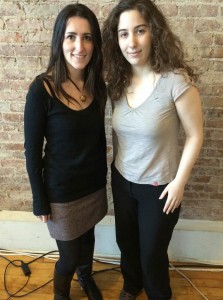 SportChaser.com is a new website that aims to connect sports fans with each other to watch their favorite teams at NYC bars. If you're not from the New York City area but still want to enjoy the game of your choice with other passionate fans, SportChaser.com wants to be the go-to tool to help you get together.
Who Are You & What Do You Do?
Amelie Wisniak and I are the co-founder of SportChaser.com. We are two French native entrepreneurs passionate about sports and technology. We graduated with a Master's Degree from the European Business School and the University of California Riverside.
When we moved to New York City, we realised the problem sports fans had to face. The difficulty of people moving to New York to find bars broadcasting their favorite teams and to connect with other fans, especially for unpopular teams, as well as the complexity of bars to communicate and attract new customers. With this in mind, we decided to begin working on a project that would help sports fans find bars and to connect with others fans.
When you got started with Sportchaser.com, how did you determine your goals and what your definition of success would be?
To begin our venture, we started to analyze the market landscape. They were no competitors and the Sports and Bars & Restaurants were two thriving industries. We then defined what would be SportChaser's strategy and vision and begun to elaborate our MVP. At this point, we determined our goals and decided to focus first on the primarily mission of SportChaser, helping to find bars to watch specific games before focus on developing social aspects, features that we plan to release for the Super Bowl XLVIII.
We want to create a relevant database of bars in New York that are actively participating and also to focus on customers acquisition in New York. Once those milestones are achieved, we would like to develop an iOS app and to expand to main US cities.
Our definition of success would be to be considered as the reference to find Sports Bar in New York City and eventually in the United States.
What strategies, online and off, have you put into place to achieve those goals? Which are working best/worst/most unexpectedly?
We have a dual strategy that include sports fans (B2C) and bars (B2B).
We decided to focus our promotion strategy on Internet and on Public Relations in order to maximize our budget for a maximum visibility and drive traffic.  We are also implementing many different marketing operations including on-site communication, events and street marketing.
How Are You Leveraging The Different Social Media Channels?
We determined different strategies for our social media content to get users traction and users engagement with SportChaser and our bars partners. We are levering social media with a cross-platform strategy.
Facebook
We use Facebook to get users engaged with SportChaser and drive traffic to the website, using short and eye catcher content in different categories to diversify our content and engage our followers ("Bar of the week", Breaking news, SportChaser news, Media content, etc.). We also post directly on community groups to advertise big sporting events and invite people to join us for events we organize.
Twitter
We use Twitter to increase the brand recognition, get bars and users acquisition. Our content is varied and does not include a limitation in the number of tweets we are posting. We work a lot on providing breaking news, partners bars activity and upcoming events. We also communicate with potential sports fans, bars and journalists to visit out our website.
 Google Plus
We principally use Google + for SEO purpose, to be well-ranked on Google and to drive traffic to SportChaser.com
We are working on levering other social media platform including Meetup, to spread the word about our events, Instagram or Youtube. We use great tools to leverage our social media strategy: Hootsuite for analytics and content scheduling, Topsy to learn about Tweet trends, Tweriod to get analysis about what is the best time to tweet and Justunfollow.
What plans do you have for marketing SportChaser in 2014?
2014 is a key year for SportChaser as big events are happening in 2014: the Super Bowl XLVIII, Sochi Winter Olympics, the Soccer World Cup…
While we only launched 3 month ago, we plan to intensify the marketing operations on the following domains:
Guerilla marketing
Street marketing
On-site communication (flyers and merchandising)
Viral marketing
Social Media communication
Public relations
Events organization
Online marketing: google ads, SEO…
Actually, we have a lot planned for 2014. A lot of companies with great projects contacted us.
Do you have any funny stories that have happened in/around the new organization that you'd like to share?
We organized an event in a Soccer pub to watch the Paris Saint Germain team playing. As we are French and Amelie is a big soccer fan, we wanted to be surrounded by people sharing the same passion. The atmosphere was crazy: people from all ages, nationalities, alone or with friends… We did not expect that so many fans are looking to connect with others persons sharing the same passion. We met a lot of people that day and see some of them outside organized sporting events. It is really a great way to make friends and meet new people.
About SportChaser.com: Founded in mid-2013, SportChaser.com is a website that aims to connect all sports fans to sports bars by locating which bars are broadcasting their preferred sporting events. SportChaser.com provides sports fans with a detailed search engine and a peace of mind knowing they can find their favorite team's game.