Does Your Website Flow For Success?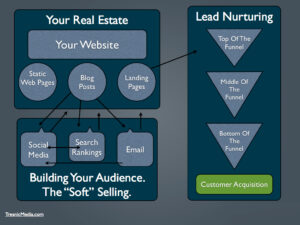 This website flowchart shows how your online presence should behave to attract new visitors, convert those new visitors into leads and nurture those leads through customer acquisition.
You can no longer have a static website and no online presence and expect to generate leads from the web.
Your company needs to be producing content on your business blog, then going out and proactively sharing your knowledge in different online communities and social media sites where your ideal customers are looking for information on the types of solutions that you provide.
Find this website flowchart useful? Help us out and tweet it to your followers! Click here to Tweet
As you can see in this website flowchart, you should be producing blog posts (or other types of content, like this infographic). That will give you a voice on social media as well as give your audience something to share within their circles.
By having fresh content on your website, you will have a reason to reach out to prospects, former customers and current customers directly via email. The more touches you can have on those leads and impress them with your knowledge base, the more likely they will become your customers. You can also increase your customer lifetime value by up-selling existing customers with other products or services that you have to offer.
While you are producing content on your blog, becoming active in online communities, and getting more shares from your owned real estate, the higher you are going to start ranking on the search engines. Google wants to rank web pages based on their value to the reader. If you're blog posts are getting shared a lot via social media, then Google will recognize that and start viewing you as a very credible source of information that should be ranking closer to the top of their search results pages.
Once your website starts attracting these quality visitors and your traffic continues to grow exponentially, then more qualified leads will start entering your sales funnel.
Using content prepared for your website, you can continue to follow up with these leads based on their interests and nurture them through your sales funnel and ultimately convert them into customers.
What Does Your Website Flowchart Look Like?
Is your website and online presence designed to attract visitors, get them in your sales funnel and nurture them to become customers?
If your website flowchart looks different than this one, let us know how your online presence is optimized in the comments below!