A website is a given today for any business, but the type of website your business has will determine the role that it plays in your online presence.
If you have a basic "brochure site" that just gives a brief bio of your company and lists your services, then you're likely only getting visitors that are specifically looking for your company or you sent to the website yourself.
To really make the most of your website and enhance your online presence, you should build your website as a central hub for all of your online communication and showcase your professionalism and expertise to potential customers.
Your Website As A Home Base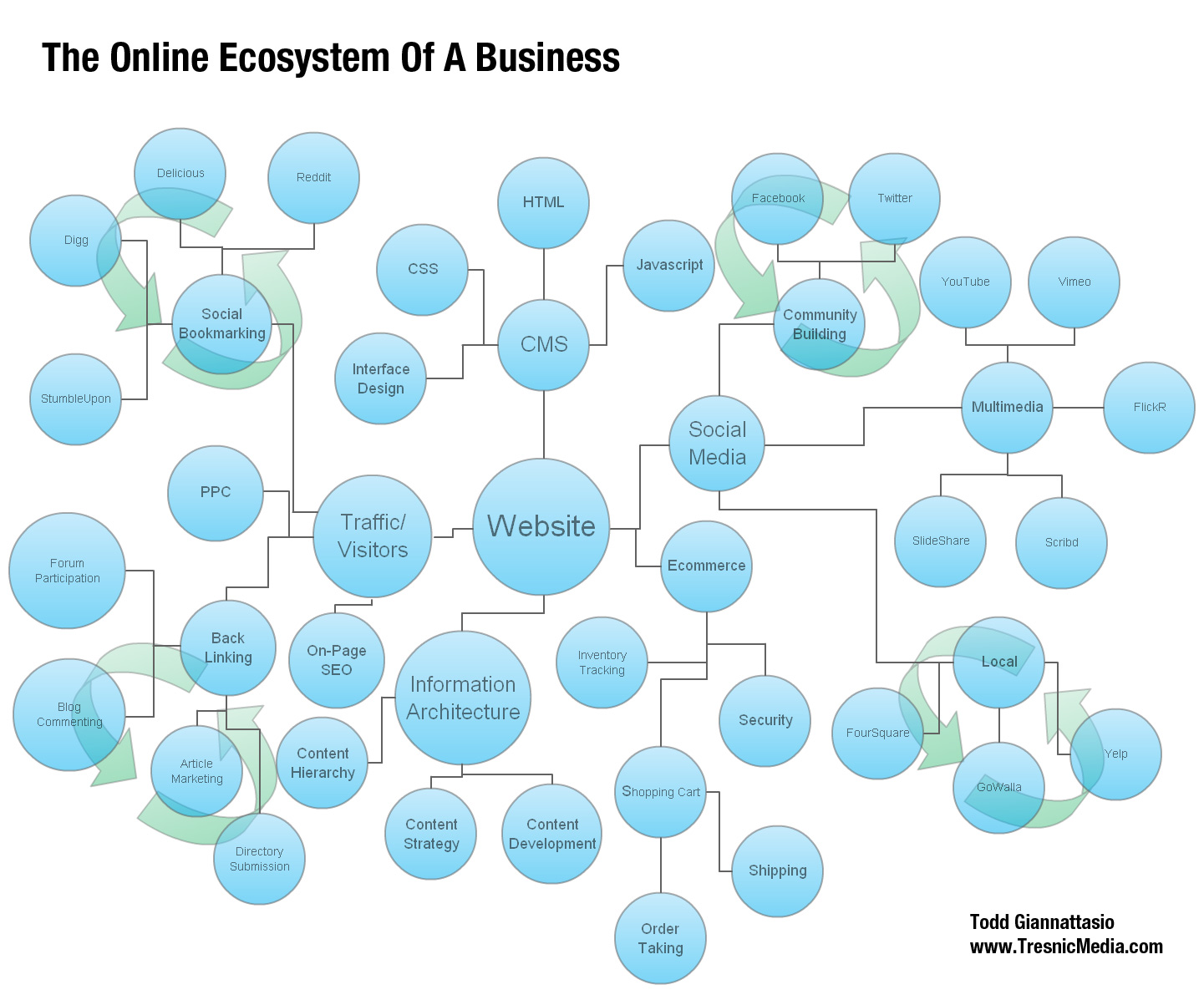 Your site is where visitors can come and find all they need to know about your company and then connect with you on the network of their choice. Having profiles across the web is beneficial for your business in a multitude of ways and having links to them on your site will help you connect and engage with potential customers where they feel most comfortable online.
Attracting visitors to your home base also gives you control over their experience as opposed to when they view your content on a third party site. You can also use your site for gathering information about your customers, tracking analytics of your site to see what they are most interested and what areas you can improve on and collecting their information for your email list.
Showing That You Are The Expert
Once you have a website, you need to consider yourself a publisher. You should be producing content for your customers via articles, photos, videos and/or audio (all four is the most beneficial). You are the subject matter expert in your field and you need your potential customers to see that and believe it. By offering information about what you do and how you do it, they can see that choosing your company is their best option for what you offer. Publishing relevant content to your niche will also serve a great value to your search engine optimization.
Let's talk about the types of content you can produce. Not sure why you would post photos to your site? You can have a photo gallery of all of your complete work to show off what great jobs you accomplish or one showing step by step how you work through a project.
Write an article on each service that you provide and what makes you so good at what you do. Record these articles into mp3 files to offer as podcasts that customers can download and listen to if they are interested in learning about what (and how) you can provide them.
Record a video providing step by step instructions for customers to try and do it themselves if they feel so inclined. Although you may find this to be contradictory to helping you gain customers, it will show them how specialized your craft is and that they are better off hiring you to do the job then trying to figure it out themselves, or try and figure it out and then realize they need to hire you. In either case, the customer has learned that you know what you're doing and can help them solve their problem. Ultimately, this will lead to more business for you.
Here is an example that can help demonstrate the true spirit of content marketing from Arnie Kuenn in Accelerate!: Move Your Business Forward Through the Convergence of Search, Social & Content Marketing:
Be the Expert Robyn has a Trek touring bicycle that she's used in her commute for about three years. It has served her well, but she's just now getting to the point where she needs to take it in for a little maintenance. It's time to get new brake pads, tighten the derailleur, true the wheels – the works. She wants to keep riding her bike for a few more years, and she's well aware that it has a great chance of a long life if she takes care of it. What she needs is a good bike mechanic to do the work for her. So, Robyn goes online and searches the web for a bike shop nearby. In the search results, she finds a YouTube video on do-it-yourself bicycle maintenance posted by Johnny's Cycleworks. She also finds a video on brake work, another on tightening up a derailleur so that the gears change smoothly, even one on tweaking the spokes to true a wheel. Robyn's first thought is, "Wow! These guys really know what they're doing." Her second thought is, "The videos are great, but no way am I going to do this myself!" In fact, she's never even seen the tools that are being used in these videos. Solution? She calls Johnny's Cycleworks to make an appointment.
In conclusion, your website can be expanded to much more than just listing your services and offering a company bio. You should take full advantage of having a website and use it to attract new visitors via search engines and social sharing and then offer engaging information that will convert your visitors into true customers.