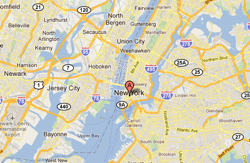 Getting found online by local customers is a high priority goal for brick and mortar business's websites. In addition to the on-page seo factors for raising your general search engine rankings, here are some things to improve your local search engine rankings:
On-Site Local SEO
Structured markup – People can read and understand the text on your website, but to a computer, it may appear to be nothing but strings of unstructured text. To help the search engines read your site more accurately and help you benefit from the content on your pages, you should add the following to your website's code:

rich snippets (google tutorial) – microdata, microformats and rdfa
microformats and geo-coding (things from addresses to images)

Localized content marketing
Submitting your content (google form)
Incorporating places/yelp/foursquare on your site (social proof)
Create a landing page for each of your locations that highly target local keywords
Off-Site Local SEO
Why claim your profiles?
When all of these profiles are linked back to your website, it shows that you are who you claim you are and reenforces your presence with Google. You can use getlisted.org to help you identify some of the listings to sign up for.
Remember to keep your branding consistent across all profiles so that your recognizable to customers wherever they may find you in addition to raising your brand awareness. Having a consistent name, address and phone number across all of your business profiles on the web solidifies your information with the search engines and gives you more juice for your local keywords.