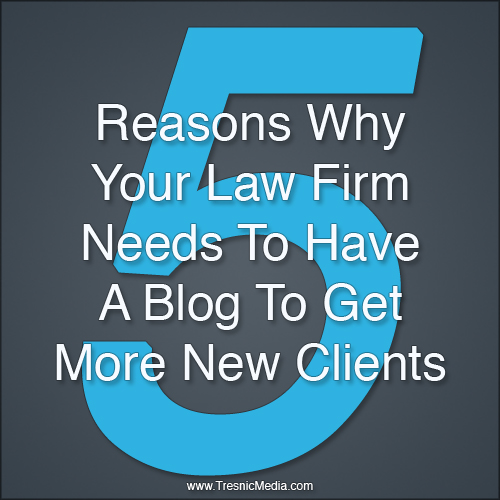 A static website is no longer going to help your law firm generate new business opportunities.
While 46% of consumers consider web design the top factor in a law firm's credibility, they need to actually see your website before that even comes into play.
If you have a 10 page website with the same information as your brochure, your website will only help you when someone already has your business card and is doing a little background check before hiring you (or more likely your competition if your firm's website isn't up to par).
Why Your Law Firm Needs A Blog
Having a blog for your law firm will:
Help you build credibility, with Google and your readers
Give you more pages to be found in search engines
Increase the amount of keywords that your law firm's website ranks for
Fuel your social media strategy
Educate your prospects to more likely become clients
A Law Firm's Blog Will Build Your Credibility
Building Credibility With Prospects
When a prospect comes to your law firm's website and sees that you are frequently publishing articles about the different areas of practice you offer and your success stories, they are going to feel that you are a leading expert in your industry and the best option to help with their legal issues.
Building Credibility With Google
Google's job is to provide the best answer for someone who is searching for a solution to their problem. The more expertise you are able to publish on your website and get indexed by Google's search engine, the more credible they will find you and want to provide your answers to the Google searcher.
More Web Pages Means More Search Engine Traffic Opportunities
A common misconception is that Google ranks websites. Google gives authority to websites as content publishers, but it is individual web pages that are indexed in the search engine and shown to people searching for answers.
Think about it, when you are searching on Google for something, how often do you actually click on link and go to the home page of a website? I bet it's not very often, and if you do, you probably click the back button and look for a page that is directly going to help you. Which is exactly what Google wants to help you accomplish.
Google wants to send you straight to the answer that you're looking for.
Let's use this article as an example since we're both familiar with it at this point.
If a web page (in this case, a blog article) is titled "Why Your Law Firm Needs A Blog" and discusses all the reasons why your law firm would need a blog, then Google is going to rank this specific page in their results when someone is searching for reasons a law firm would need a blog.
Sending someone to the Tresnic Media home page wouldn't get that person the answer they were looking for, and the home page doesn't have anything at all related to this specific topic and wouldn't make sense to show in the search results.
That's why the more web pages you have, the more keywords you can target and rank for.
Social Media Is Fueled By Content
If you plan on generating business for your law firm through the web, you can't ignore social media. The reasons are abundant, but that's for another article.
The reason you need a blog to fuel your social media strategy is so that you actually have your own information to share on those different channels.
Using social media to build thought leadership and credibility with your peers and prospects can leverage content curation to a great degree, but you will still need your own articles to share and drive traffic back to your own website for the chance to get those prospects to become leads.
When you have a growing online library of articles, you can start to leverage that to actively engage your target audience. You can monitor social media for certain keywords and discussion topics that you are knowledgable in and have an article about already. When you find someone asking a question that you've already answered in a blog post, you can quickly respond to them with the link to your website. Now you are helping educate them on how to solve their problem and putting them on your real estate. This is considered having the right message for the right person at the right time in the right place. The perfect equation for getting a new client.
Educating Prospects With Your Blog
While going through the consumer decision making process, a prospect will have a better chance of landing on an article from your blog when searching Google than coming across your home page. If you're strategically planning your content, then your blog will help educate this prospect to understand what they need to know in order to hire a law firm just like yours to solve the problem just like the one they have. Getting on the same frequency like this with your prospects increases the chances of them hiring you exponentially.
If a prospect is self-educating before making this hiring decision and they're getting all of the information they need from your website, who do you think is going to be the first law firm that they call to hire?
That's right, yours.
Does Your Law Firm Have A Blog Yet?
If your firm has a blog, leave comments below about your experience with any increase in keywords, traffic, and business opportunities.
If you don't have a blog yet for your law firm, leave a comment about why you've held off so far.
Does Your Law Firm's Website Need Help?
Get Your Free Law Firm Website Checklist
Use this free checklist to see if your website has the foundation needed to push the pedal down and reach success.