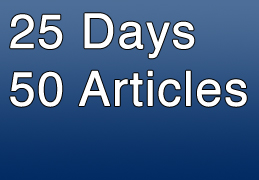 If you haven't noticed, there have been a lot of new blog posts this last week here on Tresnic Media. I am on a self-assigned project to post 50 new articles on our website in 25 weekdays. This started last Monday and I was able to stick to my schedule and get 2 new blog posts up a day. I am feeling confident that I'll be able to stick to it through December 21 and provide 50 valuable articles to people looking to learn about website design, search engine optimization, social media and content marketing.
Why 50 Blog Posts?
Tresnic Media is a common case of the plumber having leaky pipes. While I encourage all of my clients to get involved in content marketing, I have not been strong in the content marketing department myself. So I'm taking the time and commitment to practice what I preach in a more dedicated manner and have the results to show and convince our clients that content marketing works.
Last week I was doing my normal Zite reading routine to keep up with the online marketing news and trends and read this article on Admining.net. In the article, the author, Josh, says that to start seeing a return on your blogging investment you need to have 50 blog posts published on your website. He also says that posting twice a week is what he recommends, and I definitely agree with that and is the schedule I put my clients on that see the best results.
Posting twice a week has brought brand new websites that I consult for from zero to 2,000 visitors a month in the first 4 months that it was live. Their traffic is also evenly divided between social media, search engines and direct traffic.
While posting twice a week will build momentum eventually, I wanted to see how quickly I could start to see the effects and really rock content marketing hard. That's why I decided to post twice a day (at least) for 25 days.
My Blogging Plan
Before I started, I outlined 12 article ideas for each week that I would write covering 4 different topics (website design, seo, social media, content marketing). I haven't stuck exactly to those ideas because I've gotten into a flow when writing about certain topics. I took the advice of Tim Ferris and didn't let that flow go because you never know when it will come back.
To write a decent article, it takes me about 35-40 minutes, sometimes if I'm reading other articles for research and doing some light photo editing it may take an hour. So I try to knock out one article in the morning and one in the afternoon and have them scheduled for then next day. That way I don't feel the time stress to get something together and posted to the website right away every morning.
Tip: If you are in the zone, don't stop unless you absolutely have to. 
The First Week Results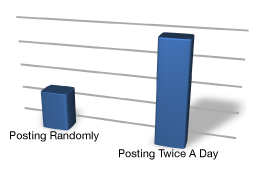 After the first week, I saw our traffic jump 162% from posting twice a day for five days straight. I also shared all of the posts across multiple social media channels. Unfortunately, I forgot to log in to my Google Webmaster Account to see how many keywords I was showing up for in the search queries. After the first week, TresnicMedia.com is showing up for 45 different keywords. I'll monitor this going forward to see how they improve.
Keep up with the journey on our social media channels or signing up for our newsletter, both in the sidebar on the right.