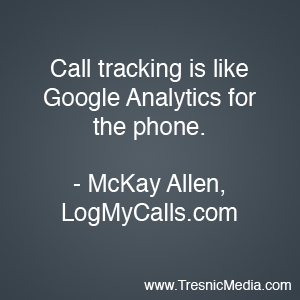 Recently, I wrote about how McKay and the LogMyCalls team had beat me at my own game with their incredible blogging efforts (learn more about that here). Since call tracking itself is such an up and coming tool, I thought it would be a good idea to bring McKay on to introduce call tracking to our audience.
It is a great way to measure how your marketing is working and where you should be allocating your efforts. Just like building your business means making connections online and turning them into business in the real world, call tracking helps you monitor and measure how that connection is working when the end goals are not online metrics.
Do you find that a lot of business owners aren't even aware of call tracking?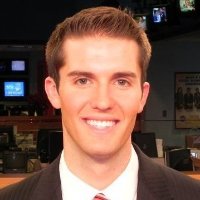 Yes, there are some. But the number is shrinking. Call tracking is growing very rapidly.
More and more businesses are using it to track which marketing efforts are generating phone calls.
Businesses from across all sectors, and of all sizes, are using it to determine which marketing efforts generate phone calls. Call tracking is a perfect fit for local marketers and local businesses.
What exactly is call tracking and what benefits does it bring to a business?
The idea behind call tracking is relatively simple: determine which ads, keywords, and campaigns generate phone calls and which don't. This is especially critical for local businesses where phone calls are the most important leads.
I'll give you an example of how call tracking is being used.
We have a client that was spending around $5K each year on radio ads and only spending a few hundred dollars on SEO for their website. After 6 months of using call tracking they figured out that their radio ads had only generated 3 calls. The SEO efforts on their site generated several hundred phone calls. 
They stopped advertising on the radio.
Their comment was this: "We've been wasting money for years and we didn't know it until we started using call tracking."
Obviously we're not saying that radio ads are terrible. We have other case studies that show the exact opposite. But the idea here is simple: you don't know which marketing efforts are generating phone calls unless you're using call tracking.
Call tracking can even tell you which online sources are generating calls. For example: are people calling after clicking on a social media link? Or are they calling after clicking through from a directory listing? This is vital information.
For people new to the concept, what information have you found helps them come to the realization that they need to start taking advantage of call tracking? That "ah ha" moment, so to speak.
Call tracking is like Google Analytics for the phone.
Marketers—even SMBs and local businesses—all universally understand that getting traffic to their website is important. They understand that knowing where web traffic comes from is also important.
If web traffic is this important, phone calls are even more important. Why? Because data shows the inbound callers buy 10x more frequently than web leads.
What are the steps to getting started with call tracking for a business owner new to the idea?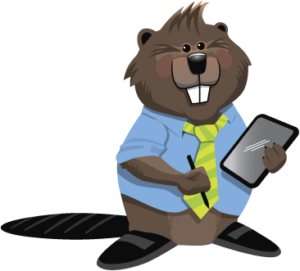 The process is really quite simple. There is basically a 4-step process:
You just need to sign up with a LogMyCalls account. The cost is relatively nominal. The sign up process takes less than 5 minutes.
After you're signed up you simply choose a local or a toll free phone number within LogMyCalls. We can get local numbers from any rate center in the U.S., in addition to a huge selection of toll free numbers.
Then you start marketing with that number. You can market the number on your website, on your listings, in radio ads, in the phone book, in mobile ads, in PPC ads, via social media, via direct mail, or anywhere else you market. Customers will see the number you select from LogMyCalls and the phone will ring directly to your business like normal. Nothing changes.
Then you log in to LogMyCalls and you can see how many phone calls the number is generating, see how long the calls are and even listen to the calls.
This data will  tell you where to spend marketing budget in the future. If you could tell, for example, that your direct mail piece generated a lot of calls and your online marketing efforts weren't generating many calls, where would you spend your money?
That's the idea behind call tracking.
What advice do you have for businesses who have maybe half-heartedly implemented call tracking but aren't feeling the impact of its true benefits?
The only way a business would fail to feel the impact of call tracking is if they failed to advertise the phone numbers that they get from LogMyCalls.
That's the only way. The only customers that cancel LogMyCalls are customers that didn't market the phone numbers extensively.
Obviously if you sign up with LogMyCalls and then fail to use the phone numbers to market your business, you won't get any calls. If you don't get any calls, you'll obviously not see the value of call tracking.
Do You Have Experience With Call Tracking?
I'd love to hear from business owners and marketers who have been using a call tracking services. How has call tracking helped improve your marketing efforts? Leave your comments below!